No. 15 Ole Miss vs. No. 13 Alabama SEC football odds: Crimson Tide play first game outside top 10 in eight years, have updated season win total of 8.5, QB questions
No. 15 Ole Miss visits No. 13 Alabama in a huge SEC game Saturday.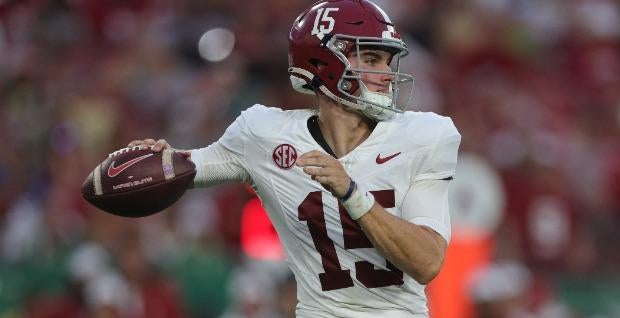 The last time the Alabama football team took the field ranked outside of the top 10 of the Associated Press Top 25 was on Oct. 3, 2015, when they won at No. 8 Georgia in a minor upset en route to the national championship. The 2023 Crimson Tide fell to No. 13 in the new AP Top 25 with their national title hopes already on the line Saturday when they host No. 15 Ole Miss at 3:30 p.m. ET on CBS. Alabama is a 7-point favorite on the SportsLine consensus.
Coach Nick Saban's club was ranked No. 3 entering Week 2 and lost 34-24 to Texas, the Tide's worst home loss under Saban. That dropped Alabama to No. 10, and the Tide sleepwalked through a 17-3 win at a bad and rebuilding South Florida team this past Saturday – it was tied 3-3 at the half. That forced AP voters to drop Bama a bit more in the polls considering that same USF team lost by 17 at Western Kentucky earlier this year.
Alabama's Jalen Milroe, who had started the first two games at quarterback, didn't play at all as he was demoted to third string. Notre Dame transfer Tyler Buchner started at QB against the Bulls but was brutal, completing just five of 14 passes for 34 yards before Saban turned to freshman Ty Simpson. He finished 5-for-9 passing for 73 yards and guided the Crimson Tide to all three of their scores, including rushing for a touchdown. Simpson was sacked five times.
Alabama's 17 points were its fewest vs. a non-power conference foe since 2009. The offensive line has surrendered the fourth-highest pressure rate in the Power Five so far (29.6%). The Tide have allowed 12 sacks in three games after giving up 22 all of last season.
Saban didn't say after who would start this week but Simpson seems to be the leading candidate: "I thought he did OK," Saban said of Simpson's performance against USF. "Made a couple really good throws. Missed a couple big-play throws. ... I thought he played well, managed the game well."
Alabama improved to 14-1 in games following a loss during the regular season since 2008, and the Crimson Tide still have yet to lose consecutive regular season games at any point. Once +600 to win the national title, Alabama is now +5000 at DraftKings. It had an over/under season win total of 10.5 entering the year, but that's down to 8.5.
Saturday will mark the 107th consecutive home game in which Alabama has been favored, starting with its infamous 2007 loss to UL Monroe -- that is also the last time Alabama lost consecutive home games. The Tide are 99-7 at home during their streak.
Ole Miss coach Lane Kiffin looks for his first win over his former boss Saban in four career attempts (0-3 as a former assistant, plus a loss while he was head coach at Tennessee). Saban started 24-0 against all his former assistants but is only 4-3 in the past seven. The Rebels are 6-3 ATS in the past nine meetings.
Get more out of your SportsLine subscription! 
Qualifying SportsLine members receive a 30-day free trial of Paramount+ premium. Sync your account right here.