2023 NCAA Tournament Princeton vs. Missouri second-round odds: Bracket-busting Tigers can become first Ivy League team in Sweet 16 in 13 years
Can Princeton pull off another NCAA Tournament upset on Saturday vs. Missouri?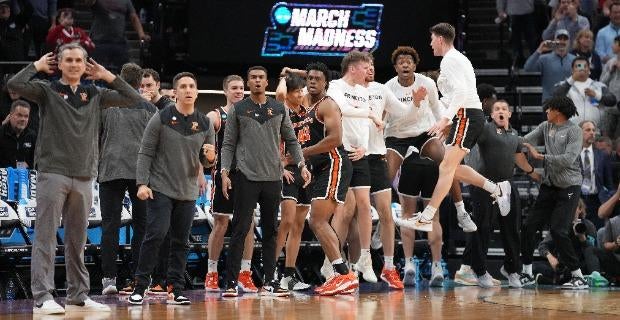 Pac-12 Tournament champion Arizona was a very popular pick to not just reach the Final Four of the 2023 NCAA Tournament, but the title game. Millions of brackets were busted Thursday when the second-seeded Wildcats were stunned as 16-point favorites by No. 15 seed Princeton, 59-55, in South Region action. No Ivy League team has reached the Sweet 16 since 2010, and Princeton has opened as a 6.5-point underdog for Saturday's second-round game vs. No. 7 Missouri.
Princeton trailed Arizona by 10 with eight minutes to play, didn't make a free throw until there were 21 seconds left in the game and shot just 4-of-25 from 3-point range. However, the Tigers outrebounded the much bigger Wildcats, who were just 3-for-16 from deep themselves. The 16-point upset was the largest by an Ivy League team since the NCAA Tournament expanded in 1985. The previous record was held by Harvard, which beat New Mexico as a 10.5-point underdog in 2013.
With Princeton's stunner, nine teams in history have now lost as at least 15-point favorites in the NCAA Tournament. Arizona is the first to do it twice, and the first school to lose twice as a No. 2 to a No. 15. The No. 2 Wildcats were beaten 64-61 in 1993 by No. 15 Santa Clara. That Broncos team was led by a Canadian point guard named Steve Nash.
One Michigan bettor at Caesars Sportsbook dropped $1,250 on the Princeton moneyline at +800 to win $10,000. It was Princeton's first NCAA Tournament win since 1998, when 47-year-old coach Mitch Henderson was a guard on the team. The Tigers, who weren't even favored at home in the Ivy League title game against Yale (but obviously won), are looking for their first trip to the Sweet 16 since 1967. The last Ivy League school to get that far was Cornell 13 years ago. The 12th-seeded Big Red lost to No. 1 Kentucky.
Recent history says Princeton, the 11th No. 15 seed overall to win in the first round all-time, might beat Missouri. Why? In 2021, Oral Roberts became the second-ever 15 seed to make the Sweet 16. Last year, Saint Peter's – located in New Jersey like Princeton – also reached that round… and then became the first-ever 15-seed to make the Elite Eight.
Missouri, under first-year coach Dennis Gates, knocked off No. 10 Utah State 76-65 on Thursday for its first Big Dance win since 2010. The Tigers are 23-0 this season when scoring at least 70 points. They played Ivy League school Penn on Nov. 11 and won 92-85. The Quakers were 0-3 vs. Princeton. 
Click here for expert picks on Princeton-Missouri.
So which 2023 Fantasy baseball busts, breakouts, and sleepers should you target or fade in your drafts? Visit SportsLine's Fantasy baseball cheat sheets now to get rankings for every single position, all from the model that called Joey Votto's disappointing season, and find out.