Super Bowl 57 Chiefs vs. Eagles props: Long-shot odds for Scorigami -- unique final score in NFL history
Could we see a Scorigami in Sunday's Super Bowl 57?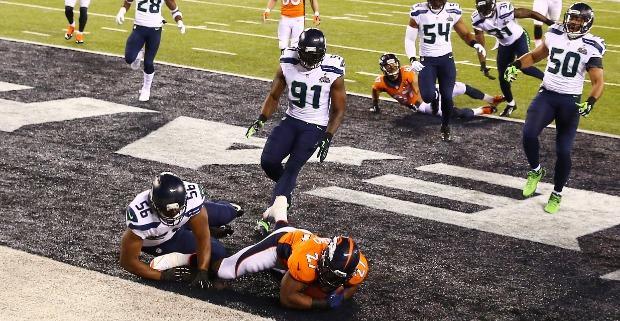 While perusing social media since the Super Bowl 57 matchup between the Kansas City Chiefs and Philadelphia Eagles was set, this writer has been surprised by how many sports fans don't know about NFL Scorigami. You can bet on whether it happens on Sunday at DraftKings, with Yes at +2000 and No at -10000.
Scorigami, a term credited to Jon Bois of SB Nation, simply refers to a final score that has never happened in an NFL game before. There is a Scorigami Twitter account with live analysis of each game, which was developed by three-time "Jeopardy!" champion Dave Mattingly. The account gives updates on the chances of each game ending in a never-before-seen score. The most common final score for games throughout NFL history is 20-17 followed by 27-24.
Are you aware a team can score just one point in a game? That happens if a club attempting a PAT after a touchdown somehow ends up instead giving up a safety. In that scenario, the defense gets 1 point as opposed to 2 if it returns a missed, fumbled, intercepted, etc., PAT try. Thus, final scores of 1-0, 2-1, 3-1, 4-1, 5-1 and 7-1 are not possible.
If we throw out the incredible unlikelihood of a team finishing with 1 point, the next most realistic would be 2 points, but that has happened several times, including a 45-2 Scorigami by the Rams over the Colts on Dec. 5, 1953. There has never been a final score of 17-2, however. A team finishing with 4 points has happened just once: The Racine Legion beat the Chicago Cardinals 10-4 on Nov. 25, 1923.
There were three Scorigami games during the 2022 regular season (none in playoffs yet):
Week 4: Seahawks 48, Lions 45
Week 13: Cowboys 54, Colts 19
Week 16: Bengals 22, Patriots 18
That last game was the 1,075th Scorigami in league history and interestingly enough, both teams scored all their points consecutively. Cincinnati led 22-0 at halftime with three touchdowns and a field goal, but kicker Evan McPherson missed one PAT, and a Joe Burrow two-point PAT run attempt also failed. New England had three second-half TDs but two Nick Folk PAT kicks missed, and a Mac Jones two-point pass try failed.
There have been a few Scorigami Super Bowls, most recently Super Bowl 48 when Seattle routed Denver 43-8. The first offensive snap of the game was a safety for the Seahawks -- center Manuel Ramirez launched the snap over the head of Broncos quarterback Peyton Manning into the end zone, and it was recovered by Denver.
So who wins Eagles vs. Chiefs in Super Bowl 57? And which side of the spread cashes more than 50% of the time? ... Join SportsLine right now to find out which side of the Chiefs vs. Eagles spread you should be all over, plus props, DFS lineups, player projections, and results from 10,000 simulations, all from the advanced model on a 17-6 roll on NFL picks!