Steelers vs. Panthers NFL Week 15 injury report, odds: Mason Rudolph may start as Pittsburgh could clinch first losing season under Mike Tomlin
The Steelers are not expected to have rookie QB Kenny Pickett on Sunday at Carolina.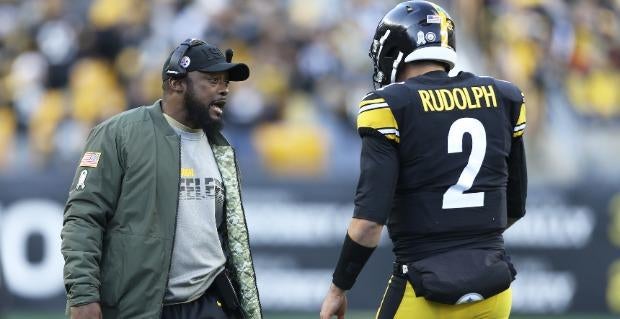 One of the most amazing current runs in the NFL may come to an end Sunday if head coach Mike Tomlin's Pittsburgh Steelers lose at the Carolina Panthers as 3-point underdogs at Caesars Sportsbook. The Steelers are expected to be without promising rookie quarterback Kenny Pickett due to the concussion protocol and might go with third-stringer Mason Rudolph over Week 1 starter Mitch Trubisky under center.
Pittsburgh was on a two-game winning streak entering last Sunday's home game vs. Baltimore and got to face Tyler Huntley instead of Lamar Jackson. Huntley was knocked out of the game in the third quarter, yet the Steelers still lost 16-14 to fall to 5-8 and see their playoff hopes all but end. The Steelers sit 13th in the AFC and winning out might not be enough to get in. DraftKings doesn't even offer odds on the team missing the playoffs but gives Pittsburgh a +5000 line to make it.
A loss Sunday would ensure no better than an 8-9 record this year, which would be the first losing season for the franchise under Tomlin. There have been rumors he is ready to step away after this season and go work in television. Tomlin's streak of 15 straight seasons without a losing record is the longest streak by a head coach to begin a career in NFL history. He broke Marty Schottenheimer's 14-season run (1984-97 with Browns and Chiefs) last year.
Oddsmakers aren't particularly surprised by the team's performance, as the Steelers closed with an over/under season win total of 7 at Caesars ahead of Week 1. The team's remaining schedule: Week 16 vs. Las Vegas, Week 17 at Baltimore, Week 18 vs. Cleveland.
Pickett left that Ravens game in the first quarter with a possible concussion, and Trubisky, the former No. 2 overall pick by the Bears who signed a two-year, $14.25 million deal with Pittsburgh this winter worth up to $27 million incentives, was quite terrible in relief with three interceptions. Reportedly, Trubisky and Rudolph have shared first-team reps in practice this week. Here's what embattled offensive coordinator Matt Canada said about that (Canada will not be back in 2023):
"I think part of that is we're making sure we're in a situation that everybody's ready to play," Canada said. "We've had two quarterbacks playing all year and Mason's been a third that hasn't had a lot of reps at all. So, you still want to prepare your football team to get ready to play. I don't think it's that abnormal to get them both ready, give them reps. We'll obviously have a plan with that, and we'll see where we're at as things come down with the protocol."
On Thursday, Steelers wideout Diontae Johnson voiced his support for Rudolph: "Yeah, I want to see him play … get a shot. I know he's ready to play. I know it's probably in the back of his mind like, 'Dang, when I'm going get my chance?' I feel like this week is it for him."
Rudolph last saw game action when he started in Week 10 last season against the Lions when Ben Roethlisberger went on the COVID-19 list. Pittsburgh and Detroit tied, and Rudolph completed 30 of 50 attempts for 242 yards, one touchdown and one interception. He is 5-4-1 in his NFL career as a starter.
We wrote earlier this week how Carolina (5-8) would win the NFC South if it wins out and it could find itself tied for first by Sunday night with a win and a Tampa Bay (6-7) home loss to Cincinnati. The offensively struggling Bucs are 3.5-point home underdogs.
At Caesars, 89.2% of the money and 58.8% of the tickets on the spread are on Carolina.
Qualifying SportsLine members receive a 30-day free trial of Paramount+ premium. Sync your account right here.