Philadelphia Eagles have easiest 2022 NFL schedule via Caesars Sportsbook opponent win total average
The Eagles have the easiest schedule in the NFL this season by one betting metric.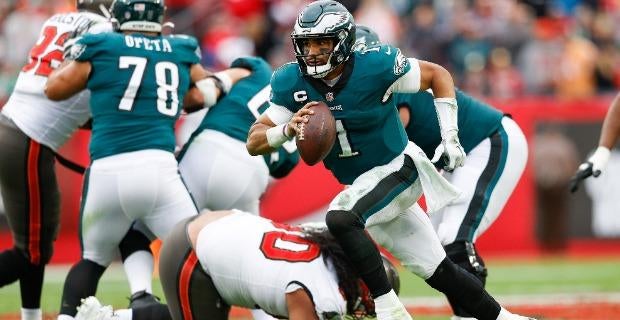 There are several ways of determining a team's strength of schedule for a given NFL season. One is simply looking at the combined winning percentage of a club's 17 opponents. By that metric, the Philadelphia Eagles have the third-easiest slate for 2022 as their opponents had a combined winning percentage of .464 (133-154-2) last year. However, if we go by the average betting win total of Philly's opponents via Caesars Sportsbook, Philly's is the easiest.
Of course, the NFL switched to a 17-game regular-season schedule in 2021. This year, it will be NFC teams who play eight road games and AFC nine (even if some away/home might be at a neutral international site). Philadelphia's 17 opponents have an average over/under win total of 8.03 at Caesars, the lowest of any team in the league. Philly's eight road opponents have an average of 7.6, also the lowest.
It obviously helps that the Eagles play four games against Washington (8 wins) and the New York Giants (7) wins inside the NFC East. Teams from the NFC East also face AFC clubs from the South Division and two AFC South teams, Houston (4 wins) and Jacksonville (6), are yet again expected to be terrible.
Philadelphia also gets a matchup against 2021 NFC North last-place finisher Detroit (6.5 wins). That's the season opener on Sept. 11 in Motown (See tickets at StubHub) with the Eagles opening at -4 in what will be receiver AJ Brown's Philadelphia debut after he was acquired during the draft from Tennessee. The Lions were outscored by 142 points last season, and only two teams in the NFC had a worse differential.
The Eagles host the Vikings, visit the Commanders and host the Jaguars the next three weeks after Detroit and thus might not be underdogs for the first time until Week 5 at Arizona. Even then, the Cardinals will be without suspended Pro Bowl receiver DeAndre Hopkins.
Jalen Hurts and company were 9-8 last year and are set at 9 wins for this season. The Giants (average opponents' win total of 8.12) and Colts (8.18) have the next easiest schedules in the league per Caesars. New York's home schedule (7.7 average) is the easiest. 
Who wins the Preakness Stakes? And which underdog is a must-back? Join SportsLine now to see Jody Demling's picks for the Preakness Stakes, all from the expert who nailed 10 Derby-Oaks doubles and 9 of the last 17 Preakness winners, and find out.