Next Raiders starting quarterback odds: Jimmy Garoppolo supplants retired Tom Brady as 2023 favored starter
The Las Vegas Raiders will not be luring Tom Brady to town to be their 2023 starting quarterback.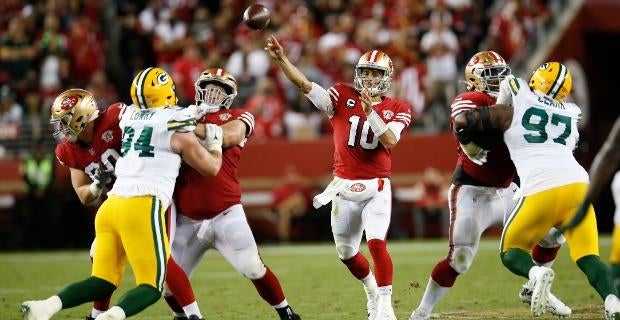 Derek Carr is still a member of the Las Vegas Raiders – and will "compete" for them in this weekend's Pro Bowl Games – but he will be traded (or released) within the next couple of weeks. Tom Brady had been the favorite to be the Raiders' 2023 Week 1 starter because of his ties to head coach Josh McDaniels, but Brady retired this morning. The new favorite via SportsLine oddsmakers is Jimmy Garoppolo, who also has ties to McDaniels.
Garoppolo is a free agent, so it would only cost the Raiders money, as opposed to the draft capital a trade for Green Bay's Aaron Rodgers or Baltimore's Lamar Jackson would likely require. The Ravens say Jackson is going nowhere and at worst he figures to be slapped with the franchise tag. 
Garoppolo began his career in New England when McDaniels was the offensive coordinator and quarterbacks coach there, so it makes a ton of sense to sign him. Whether Garoppolo is much of an upgrade on Carr is another question, but too many bridges have been burned to bring Carr back. McDaniels benched him for the final two games of the regular season and Carr left the team with McDaniels' permission.
The market for Garoppolo certainly increased with Brady's retirement, as he also could be an option for the Jets (the favorites to land Rodgers), Buccaneers (to replace Brady), Titans (if they dump Ryan Tannehill) and a few other clubs.
If Garoppolo's price tag is too high, the Raiders could opt to start Jarrett Stidham in Week 1 as a bridge to a quarterback the team may choose at No. 7 overall in this year's draft – Las Vegas could always trade up as well if it really wants Bryce Young or CJ Stroud. Neither of them is likely to available at Las Vegas' current spot. Kentucky's Will Levis could still be on the board, along with Florida's Anthony Richardson. 
Stidham, who came over with McDaniels from New England last offseason, started the final two games of 2022 and was decent in losses to the 49ers and Chiefs. He completed a combined 45 of his 70 passes for 584 yards, four touchdowns and three picks. The former sixth-round pick is a free agent.
Baker Mayfield is available and looked decent at times with the Rams after being claimed off waivers. He would cost much less than Garoppolo. Mayfield may prefer to re-sign with Los Angeles and stick with QB guru Sean McVay with Matthew Stafford's health no sure thing. 
Indianapolis is likely to release former MVP Matt Ryan if the Raiders are looking for a one-year stopgap veteran.
Via SportsLine oddsmakers: Who will be the Raiders' Week 1 starting QB? 
Jimmy Garoppolo +200
Jarrett Stidham +250
Aaron Rodgers +500
Rookie draft pick +700
Baker Mayfield +1000
Matt Ryan +1500
DFS: Lineup Optimizer | Picks
Early Edge: YouTube | Apple Podcasts
Newsletters: SportsLine Daily | Fantasy
Qualifying SportsLine members receive a 30-day free trial of Paramount+ premium. Sync your account right here.