Lamar Jackson 2023 NFL odds, props: Ravens QB set at career-high passing yardage total, expects to run less in new Todd Monken offense
The Baltimore Ravens could have a new-look offense this season.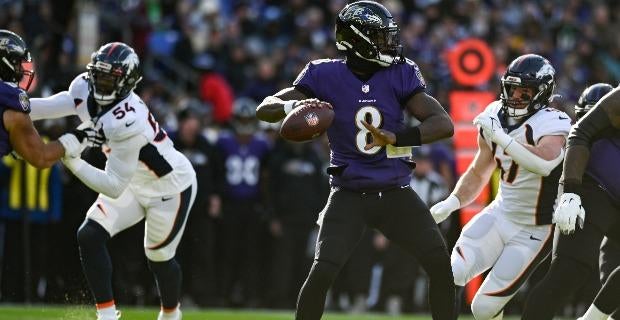 The Baltimore Ravens have made the playoffs in four of the five seasons since Lamar Jackson took over as the full-time starting quarterback during the 2018 campaign. However, the offense and Ravens as a whole perhaps have gotten stale, as the team hasn't advanced past the Divisional Round. They are expected to pass more and run less this season under new offensive coordinator Todd Monken, and Jackson is set at over/under 3,625.5 passing yards and 875.5 rushing at DraftKings.
Former offensive coordinator Greg Roman stepped down not long after the Ravens' 24-17 loss at Cincinnati in the wild card round back in January – which Jackson missed with an injury Baltimore's scoring had decreased in each of Roman's four seasons as the play-caller, from an NFL-best 33.2 points per game in 2019 to 20.6 points per game in 2022 (19th in the league).
The Ravens finished 30th in the red zone in 2022 and then went just 1-of-4 inside the 20-yard line in the loss to Cincinnati. They failed to score more than 17 points at any point in Jackson's six-game absence, including in the postseason. Both players and fans demanded change.
Monken was hired in February away from two-time national champion Georgia and has promised a more balanced offense. He worked wonders with former walk-on quarterback Stetson Bennett at UGA. Monken previously worked as an OC with the Buccaneers from 2016-2018 and with the Browns in 2019. The Bucs ranked fourth and first, respectively, in passing yards in 2017 and 2018.
The Ravens have run the ball more often than any other NFL team since Jackson became the starting QB. Jackson got his first look at Monken's new offense at OTAs this week – which he wouldn't have attended without his recent contract extension.
"Running can only take you so far," Jackson said. "I feel like, with this new era of teams and offenses in the league, I feel like we need that. Less running and more throwing." When asked if his rush attempts would be scaled back, he added: "Absolutely, absolutely. Especially with the receivers we have."
Jackson's 4,437 career rushing yards are the most by any quarterback in their first five seasons. Baltimore is 16-1 when Jackson runs for 90 or more yards, but Jackson has also taken an NFL-high 877 hits over the past five seasons. The Ravens got him some wideout help this offseason, signing Odell Beckham Jr. and Nelson Agholor in free agency and then drafting Zay Flowers in the first round.
Under 875.5 rushing yards for Jackson is a -140 favorite at DraftKings. He has topped that twice: an NFL-record 1,206 yards in 2019 and then 1,005 in 2020. Jackson was limited to 12 games each of the past two seasons and did not reached 800 yards. His career-high passing yardage total is 3,127 in his 2019 MVP season. Jackson Under 3,625.5 passing yards this year is a slight -130 favorite.
A total of 11 NFL quarterbacks threw for at least 3,625.5 yards last year. The only QB to rush for at least 800 was Chicago's Justin Fields with 1,143. Baltimore hosts Houston in Week 1 and the SportsLine Projection Model currently has Jackson with 211 passing yards and 48 on the ground for that game.
Get more out of your SportsLine subscription! 
Qualifying SportsLine members receive a 30-day free trial of Paramount+ premium. Sync your account right here.