Kansas City Chiefs have hardest 2022 NFL schedule via Caesars Sportsbook opponent win total average
The Chiefs have the hardest schedule in the NFL this season by one betting metric.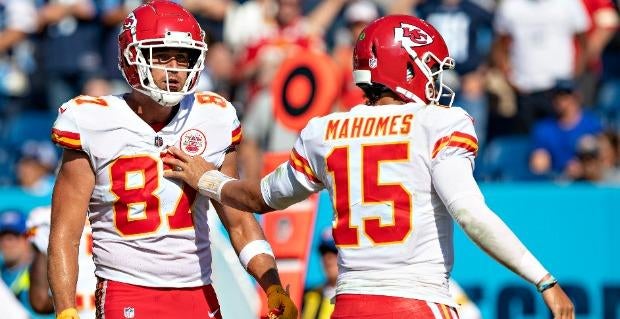 Recently, we told you that the Philadelphia Eagles have the NFL's easiest schedule this season by the average betting win total of their opponents via Caesars Sportsbook. On the flip side, Patrick Mahomes and the Kansas City Chiefs have the hardest. Their 17 opponents combine for an average win total of 9.12 (Eagles' opponents averaged 8.03). The Chiefs are +900 third favorites at Caesars to win Super Bowl 57 and have an Over/Under win total of 10.5.
Incidentally, Kansas City had the NFL's longest streak of landing Over its win total at eight seasons in a row before going Under last year at 12-5 – the Chiefs were set at 12.5 victories with the added 17th game. They have won at least 12 games in each of the past four seasons.
Twelve of Kansas City's 17 opponents this year (nine road and eight away) have a win total of 9.5 of higher. The Las Vegas Raiders (10) are the only other team facing double-digit opponents with win totals of 9.5 or higher.
The AFC West, on paper, looks like the best division in football. Kansas City has won it six years in a row and is the +160 favorite to make it seven straight, but there's no denying that the team got a bit worse by trading away All-Pro receiver Tyreek Hill to Miami. Pro Bowl safety Tyrann Mathieu left in free agency for Arizona – the Cardinals host the Chiefs in Week 1; Kansas City is -3 and won't have to deal with suspended Cards Pro Bowl receiver DeAndre Hopkins. The Cardinals' coach, Kliff Kingsbury, was Mahomes' former coach at Texas Tech.
The Raiders certainly got better this offseason by landing superstar receiver Davante Adams from Green Bay to play with his former Fresno State quarterback Derek Carr. Las Vegas also signed Pro Bowl defensive end Chandler Jones. The Chargers beefed up on defense with the likes of Pro Bowlers Khalil Mack and JC Jackson, and the Broncos traded for quarterback Russell Wilson.
The defending Super Bowl champion Los Angeles Rams have the second-toughest schedule via this metric with their opponents averaging a win total of 8.97, and the Raiders are third at 8.82.
If you want to go by opponents' combined winning percentage from last season, the Chiefs have the fifth-toughest schedule. Their foes were 154-135-0 last year (.533). The Rams have the toughest with their opponents at .567 (164-125). Los Angeles visits Kansas City in Week 12 in one of the season's marquee matchups. There's an early spread for that, too: KC -3. The only game in which the Chiefs are currently underdogs is +2.5 in Week 4 at Tampa Bay, a Sunday night matchup.
The Rams have the hardest road schedule via the Caesars metric with an average opponent win total of 9.4. Arizona has the hardest at home (9.3). Obviously, the Chiefs are a big part of both. 
Which 2022 Fantasy Football sleepers, breakouts and busts should you target and fade? And which QB shocks the NFL with a top-five performance? Join SportsLine now to get Fantasy Football cheat sheets for every single position, all from the model that called Jonathan Taylor's huge season, and find out.