Browns vs. Texans NFL Week 13 odds, props: Deshaun Watson set at 247.5 passing yards in Cleveland debut against former team
Deshaun Watson makes his Browns debut on Sunday against Houston.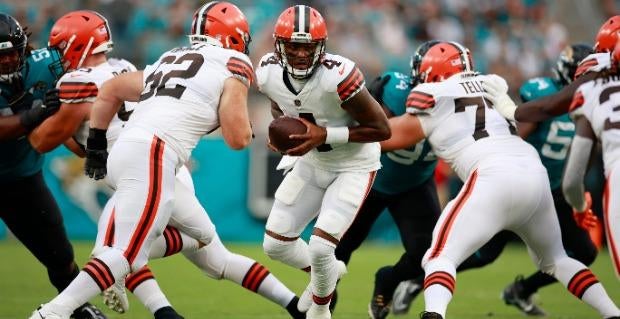 Did the NFL schedule-makers know something ahead of time about how long the league would suspend Deshaun Watson this season? They didn't, as Watson's camp negotiated the 11-game ban that was handed down in August, so it's simply incredibly ironic that the former Texans quarterback will make his Cleveland Browns debut on Sunday in Houston. Watson is set at over/under 247.5 passing yards and the Browns are 7-point favorites.
While Watson was allowed to play in this preseason, the last game he played in that counted was on Jan. 3, 2021, when Houston lost at home 41-38 to Tennessee to finish 4-12. Watson won the NFL passing yardage title with 4,823 yards, but soon thereafter the numerous allegations of sexual misconduct came to light. The Texans didn't play him at all in 2021 before trading the former Clemson star to Cleveland in March along with a 2024 sixth-round pick for a 2022 first-round pick (No. 13 overall), 2023 and 2024 first-round picks, a 2022 fourth-round choice (No. 107), a third-round pick in 2023 and a fourth-round pick in 2024.
Watson signed a fully guaranteed five-year, $230 million deal with the Browns, the most guaranteed money in NFL history. Watson had a no-trade clause and originally wasn't interested in Cleveland, but that huge contract changed his mind.
Houston didn't actually select 13th in this year's draft, though, sending that pick to the Philadelphia Eagles for No. 15 overall as well as No. 124 overall in Round 4 and Nos. 162 and 166 in Round 5. At No. 15, the Texans took Texas A&M offensive lineman Kenyon Green. He hasn't done much as a rookie. The Eagles took Georgia defensive tackle Jordan Davis at No. 13 and he played quite well before being injured.
Is 247.5 passing yards too high? Obviously, Watson is a great quarterback but surely will be rusty and the Browns are a run-heavy team behind Nick Chubb. Cleveland ranks fifth in the NFL in rushing at 154.4 yards per game. The Texans are last in the league against the run.
Houston allows 216.4 passing yards per game, which is middle-of-the-pack. Watson is also set at O/U 19.5 completions, 31.5 pass attempts, 1.5 passing TDs, 0.5 interceptions and 23.5 rushing yards. Watson will be Cleveland's 34th different starting QB since 1999, the most in the NFL.
There are a handful of season-long props on him as well with Cleveland having six games remaining: O/U 1,175.5 passing yards, 8.5 TD passes and 4 interceptions. The Browns are given an O/U of 3.5 wins. They should win Sunday and then visit Cincinnati, host Baltimore, host New Orleans, visit Washington and close the year in Pittsburgh. I'd probably lean Under that 3.5 win total. 
Qualifying SportsLine members receive a 30-day free trial of Paramount+ premium. Sync your account right here.