Browns vs. Jaguars Friday NFL preseason odds: Deshaun Watson may make Cleveland debut barring year-long suspension, Trevor Lawrence will start for Jacksonville
Cleveland visits Jacksonville in Week 1 of the NFL preseason on Friday night.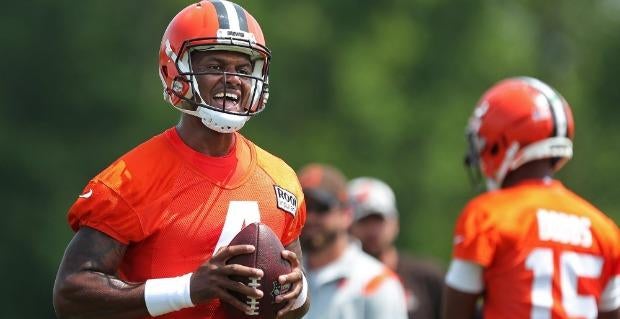 The two best quarterbacks in the history of Clemson University are Deshaun Watson and Trevor Lawrence and they might face off for the first time as professionals Friday night when Watson's Cleveland Browns visit Lawrence's Jacksonville Jaguars in Week 1 of the NFL preseason. Jacksonville is -2.5 at Caesars Sportsbook.
It is quite possible that the decision on the NFL's appeal of Watson's six-game suspension for violations of the NFL's personal conduct policy is handed down by Peter C. Harvey, a former New Jersey attorney general, on Friday. Last week, former federal judge Sue. L Robinson made the controversial decision to suspend Watson for just six games without a fine, but the NFL wants a full season. Should Harvey add to the suspension, a federal lawsuit by Watson's camp is expected.
"We've seen the evidence, she was very clear about the evidence, she reinforced the evidence," Commissioner Roger Goodell said of the decision to appeal. "There were multiple violations that were egregious, and it was predatory behavior."
If Watson is suspended indefinitely with a chance to apply for reinstatement after the year, he would have to leave the Browns facility immediately and would no longer be able to practice with the team in training camp or play in preseason games, so there may be some urgency to get him on the field Friday if no decision is handed down by Harvey before that. If Watson only gets a specific number of games, he can stay with the team until the week before the regular-season opener.
Coach Kevin Stefanski – who is 3-0 in the preseason as a head coach -- hasn't said how he would handle his quarterback rotation but hinted last week that he'd like to see Watson play his first game since Watson's Houston Texans lost to the Tennessee Titans on Jan. 3, 2021. Long-time Browns writer Mary Kay Cabot said on a recent radio appearance in Cleveland that the Browns will play Watson "a series or two."
Jacksonville will become the first team to play two preseason games after the Jags lost 27-11 in the Hall of Fame Game last Thursday to Las Vegas. Jake Luton and Kyle Sloter played at quarterback, but Lawrence and other starters will play a couple of drives in Friday's game according to Doug Pederson, who is 8-9 in preseason games as a head coach dating to his Eagles days.
"This week I'm going to let the starters play, get their feet wet a little bit in this football game, a couple series, nothing too crazy, nothing too long, but just let them get a feel of the game, get them working in game situations," Pederson said.
Cleveland got some bad news this week when receiver and Pro Bowl return man Jakeem Grant tore his Achilles, ending his season. Grant has four punt return touchdowns and two TDs off kick returns in his career. Grant by all accounts was having a fine camp as a slot wideout as well. 
Which Fantasy Football sleepers, breakouts and busts should you target and fade? And which QB shocks the NFL with a top-five performance? Join SportsLine now to get Fantasy Football cheat sheets for every single position, all from the model that called Jonathan Taylor's huge season, and find out.