2023 NFL playoff odds: Struggling Daniel Jones and Giants now have longer odds than only Bears, Panthers and Cardinals
The Giants now face long odds to make the NFL playoffs.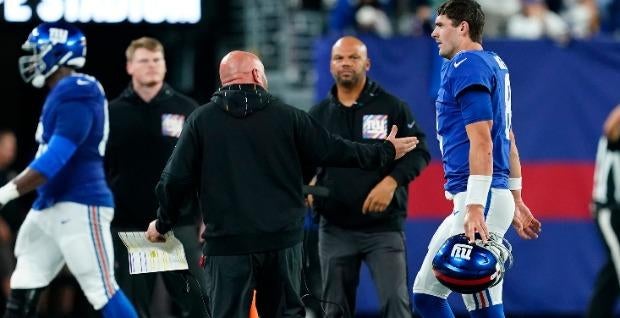 The New York Giants were a playoff team last season. Brian Daboll was named NFL Coach of the Year and quarterback Daniel Jones had a career year that encouraged the team to sign him to a long term extension this offseason. For everything that went right in 2022, everything has gone wrong in 2023 with the team at 1-3 – and likely at 1-5 at a minimum with trips to Miami and Buffalo up next. New York is now +900 to reach the playoffs at DraftKings, longer odds than only the winless Bears (+2500) and Panthers (+1600) and one-win Cardinals (+1500).
Arizona, which hasn't had starting QB Kyler Murray available yet this season, is the only team that the Giants have beaten so far, and that win required the biggest comeback in team history in Week 2. Otherwise, Big Blue has lost to Dallas, San Francisco and then Seattle on Monday, with each defeat coming by at least 18 points and by a combined score of 94-16. The Giants' 0-4 against-the-spread mark is the league's worst. They are also the only team in the NFL to not score a first-half touchdown this season.
Jones has massively regressed this year. He was picked off twice Monday in the 24-3 defeat and also lost a fumble that would lead to a TD. The Giants were at Seattle's 5-yard line and threatening to make it a one-score game with 1:19 remaining in the third quarter when a Jones throw to Parris Campbell hit Seahawks rookie cornerback Devon Witherspoon in the chest, and he returned it for the dagger TD. Witherspoon seemed to hint he knew what was coming:
"Just running the coverage," he said. "We saw the play that we had seen on film [in that] formation. He ran basically a return route so I jumped it, he threw the ball and just tried to get to the ball. That was really my whole mindset."
Daboll was very upset with Jones on the sideline after that pick. Jones then threw another about halfway through the fourth quarter, and the Giants fell to 0-3 all-time when Jones has at least three tunovers. He has six interceptions this season, at least one in each game. Jones had only five picks all of last year. Daboll has not hinted at any QB change to backup Tyrod Taylor.
It's not all on Jones, as he has been sacked 22 times after 10 Monday. Those 22 sacks are the fourth-most by any QB through four games since 2000. The Giants are dealing with injuries on the offensive line, most notably to starting left tackle Andrew Thomas.
Perhaps it's good that the Giants are in Miami this week, as they have now been outscored 64-3 in two home games. Only the 1975 Chargers scored fewer points in the Super Bowl era (0) in their first two home games. New York opened as an 11-point underdog against the Dolphins.
It's going to be a long football season overall in East Rutherford, as the Jets are 1-3 as well. The Jets (+850 to make the playoffs) and the Giants are the only teams that have run zero offensive plays with a lead this season. Both teams now have season win total of 5.5. 
Get more out of your SportsLine subscription! 
Qualifying SportsLine members receive a 30-day free trial of Paramount+ premium. Sync your account right here.