2021 NFL MVP odds update: Rams' Matthew Stafford taking more overall betting action than Patrick Mahomes
Bettors are backing new Rams quarterback Matthew Stafford big time at Caesars Sportsbook to win NFL MVP.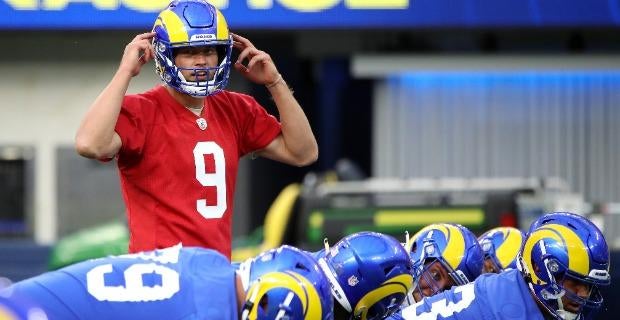 The Los Angeles Rams haven't had a player win NFL Most Valuable Player since the AFL/NFL merger. Of course, the Rams made a big trade this offseason for Detroit Lions quarterback Matthew Stafford, and bettors at Caesars Sportsbook are hammering the former No. 1 overall pick to win MVP this year, more so than any other player. Stafford is currently priced +1500 on the moneyline.
That above statement is a bit of a trick. The Rams had three straight NFL MVPs from 1999-2001 in quarterback Kurt Warner (twice) and running back Marshall Faulk, but the team was located in St. Louis then. The lone Los Angeles Rams MVP was QB Roman Gabriel in 1969, just before the 1970 merger.
At Caesars, a league-high 10 percent of all tickets sold on this prop are on Stafford, just ahead of Buffalo quarterback and 2020 runner-up Josh Allen (+1000). Interestingly, betting favorite Patrick Mahomes of the Chiefs (+500) isn't among the top five on tickets sold, but he is No. 1 on total dollars at 16 percent. Stafford is No. 2 at nine percent. It might surprise readers to know that Stafford has been to just one Pro Bowl in his career: 2014. Then again, he played with the Lions, who were usually bad. 
"I'm a little surprised Stafford is leading in tickets," said Nick Bogdanovich, Director of Trading. "He's never really been in the hunt before, but his new surroundings gives him a shot now. There's the [Sean] McVay factor, and he has good wideouts with [Robert] Woods and [Cooper] Kupp. But the Rams figure to be a Super Bowl contender, and Stafford will need a big year to get them there."
Rams fans won't get to see Stafford at all this preseason as Coach Sean McVay doesn't like playing his starters in meaningless games – top running back Cam Akers already has been lost for the season. The offense that Stafford is learning under McVay is way more complex than anything he ran in Detroit and there have been some ups-and-downs during camp.
Caesars lists Stafford at +1200 to lead the NFL in passing yards, which he never did in Detroit. He is a member of the rare 5,000-yard club, throwing for 5,038 in 2011, but that was only third that year behind Drew Brees (NFL-record 5,476) and Tom Brady (5,235).
Stafford is given an Over/Under of 4,550.5 passing yards in 2021 and 28.5 touchdown passes. Remember, there's the 17th added game now. That he leads the NFL in picks is +2800. The Rams open the season Sept. 12 at home vs. the Bears – a team Stafford knows well – as 7-point favorites. 
Which Fantasy Football sleepers, breakouts and busts should you target and fade? And which QB shocks the NFL with a top-five performance? Join SportsLine now to get 2021 Fantasy Football cheat sheets for every single position, all from the model that called Josh Allen's huge season.