James Harden NBA trade odds: Superstar shreds 76ers president Daryl Morey, trying to force way to Clippers
James Harden is trying to force his way out of Philadelphia.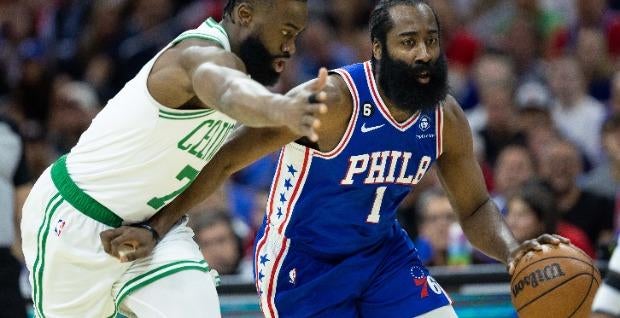 When current Philadelphia 76ers president Daryl Morey was the general manager of the Houston Rockets and James Harden was his star there, the two had a very close relationship, to the point that when Morey left his GM spot with Houston in 2020, he took out a full-page newspaper ad thanking many but signaling out Harden in bold letters: "James Harden changed my life." Well, their relationship is on fire right now after Harden ripped Morey in almost unprecedented fashion Monday.
It has been known for a few months that Harden wants to be traded, specifically to the Los Angeles Clippers. Morey agreed to find a suitable deal after the former MVP agreed to pick up his $35.6 million player option in June. However, over the weekend it was reported that Morey was having no luck getting teams to meet his demands -- hardly shocking, given that Morey doesn't have a ton of leverage -- and planned to bring Harden to camp. The Clippers also may not have a lot the Sixers want, because L.A. isn't giving up Paul George or Kawhi Leonard.
The standoff went to a new level after Harden said the following at an Adidas media event in China: "Daryl Morey is a liar and I will never be a part of an organization that he's a part of. Let me say that again: Daryl Morey is a liar and I will never be a part of an organization that he's a part of."
Could the team suspend Harden and really play hardball? Yeah, he has free speech rights to say almost anything he wants, but you can't just destroy your boss like that. I'd be fired for sure. 
Remember, Harden didn't have to opt in. He could have signed somewhere as a free agent, although many teams didn't have cap room to meet his big demands. Houston actually did and Harden was interested in going back, but the Rockets opted for Fred VanVleet in free agency instead.
No one actually thinks Harden will show up to camp if he remains on the roster, and the Athletic has reported he will not do so. Harden has perfected, though, the art of forcing trades. He did it to the Rockets and the Nets. The NBA is a players' league now. They dictate their own futures. 
Harden is still a fine player who averaged 21.0 points, 10.7 assists and 6.1 rebounds in his 58 games last year and helped get Philly to the conference semifinals, where they blew a 3-2 series lead to Boston. Harden had a couple of huge games but also demonstrated why he has a reputation as a playoff disappointment in a few others. Still, Philly is not better by giving him away for pennies on the dollar.
With owner Steve Ballmer's deep pockets, the Clippers will not care about any luxury tax penalties they would incur by getting Harden, but may have to get a third team involved. Remember, salaries have to nearly match in NBA trades. Considering Harden will turn 34 shortly and is trending down a little, no non-contender is likely to chase him with free agency one year away.
The Damian Lillard situation also could affect the Harden market, although it would be an upset if Portland doesn't trade Lillard to Miami. Would the Sixers take a package built around Tyler Herro? That's reportedly what Miami is offering the Trail Blazers. Would the Heat even give up Herro for Harden?
Incidentally, the 2023-24 NBA schedule will be out this week. We do know Philly is in Miami on Christmas Day. 
Via SportsLine oddsmakers: Which NBA roster will James Harden be on for the start of the 2023-24 season?
Clippers +200
76ers +400
Pelicans +700
Heat +800
Hawks +900
Timberwolves +1000
Raptors +1500
Lakers +1800
Trail Blazers +2000
SportsLine's 2023 Fantasy Football Draft Bible has the best sleepers, breakouts, busts, rookie breakdowns, target analysis, rankings and so much more -- all in one place!