Buddy Hield NBA trade odds: Pelicans, Mavericks, Knicks lead potential landing spots for Pacers sharpshooter
The Indiana Pacers have decided to trade Buddy Hield.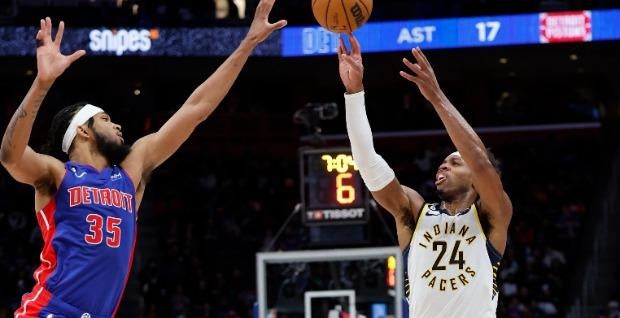 NBA training camps are right around the corner, so it's rather interesting timing that the Indiana Pacers have only just started trade talks surrounding guard Buddy Hield, one of the best 3-point shooters in the league. Stalled negotiations on an extension are what pushed the team to start trade dialogue after Hield reportedly turned down the team's most recent offer. SportsLine odds on Hield's next team.
The 30-year-old Hield is not an All-Star but a very fine player nonetheless. He averaged 16.8 points on 45.8% overall shooting last season and 42.5% from deep (No. 9 in the NBA). He was second to Golden State's Klay Thompson with 283 made 3-pointers, shattering Hall of Famer Reggie Miller's previous franchise record of 229 in 1996-97.
Is Hield a bit of a one-trick pony? Yes, but that trick might be the most coveted skill in the league these days. Hield is the NBA leader in 3-pointers made over the last five seasons with 1,381. Stephen Curry (1,261) and Damian Lillard (1,118) rank second and third, respectively.
Hield is in the last year of his contract this season at $19.2 million and would be one of the top free agents next summer as it's a fairly weak class overall. Indiana isn't close to contention, so it makes sense to get a future asset (a young player or draft pick) for Hield now.
It is possible the trade markets for Hield and Lillard --- who has long been in a trade demand stalemate with Portland -- overlap. Hield is not in Lillard's class but could be used as part of a three-way deal for salary-cap purposes. Salaries do have to nearly match in all NBA deals.
New Orleans could be ready to contend in the West with a healthy Zion Williamson and has a need in the backcourt after guard Trey Murphy III tore the meniscus in his left knee and had surgery earlier this month. His timetable was approximately 10-12 weeks. Murphy averaged 14.5 points on 40.6% 3-point shooting and shot 90.5% from the free throw line in 2023. Hield could hold down the fort early in the season and then move to a reserve role when Murphy is back. The Pelicans have also been mentioned in a possible Lillard deal, but most still expect him to end up in Miami.
The Los Angeles Lakers and Dallas Mavericks have previously showed interest in Hield – the Lakers have been after him for years. They would be favorites here, but it's hard to find an L.A.-Indiana straight up deal working for cap reasons, and the Lakers did sign Gabe Vincent to help with their perimeter issues.
The Mavericks could send Tim Hardaway Jr. and a draft pick or young player to Indiana for Hield. Hield is an upgrade on Hardaway and Mark Cuban is determined to reach the NBA Finals in Luka Doncic's prime (and before Kyrie Irving blows up the team). Hield has a home in Dallas.
New York ranked 19th in the NBA during the 2022-23 regular season in 3-point shooting at 35.4% and was last among all 16 teams (29.2%) during the 2023 playoffs. The Knicks could send Evan Fournier and draft compensation to Indiana.
Via SportsLine oddsmakers: Which team will acquire Buddy Hield from the Pacers?
Pelicans +300
Mavericks +300
Knicks +500
Lakers +700
Raptors +800
76ers +1000
Bucks +1200
Clippers +1400
Celtics +1500
Pistons +1700
Grizzlies +1800
Kings +2000
Get more out of your SportsLine subscription! 
Qualifying SportsLine members receive a 30-day free trial of Paramount+ premium. Sync your account right here.