2022-23 NBA futures odds: 76ers vs. Celtics, Lakers vs. Warriors on opening night; full schedule releases Wednesday
The full NBA schedule for the 2022-23 season will be released Wednesday, but some games have already been revealed.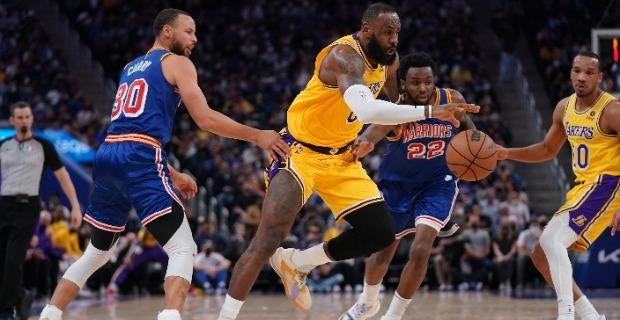 The 2022-23 NBA season will tip off on Tuesday, Oct. 18, with the usual doubleheader on TNT. The first game will feature the Philadelphia 76ers and Boston Celtics (with Kevin Durant?) and the second the Los Angeles Lakers (with Kyrie Irving?) at the defending champion Golden State Warriors. There are odds already out on the second game with Golden State at -5.5 at DraftKings.
Boston is currently the +450 favorite at Caesars Sportsbook to win the 2023 NBA title, and that's oddsmakers essentially assuming that Durant will end up in Celtics green by the start of the season. The book also gives Boston the highest season win total but only at over/under 54.5. There are no odds on the opener vs. Philly yet because of the KD uncertainty.
"We've had higher win totals in the past, but it's a totally different ballgame now," said Adam Pullen, Assistant Director of Trading at Caesars Sportsbook. "Load management is a big deal now, more than it's ever been. I just don't think there's that same push anymore for top teams to go all out in the regular season. The Suns won 64 last year, which was quite impressive, but it's tough to put up a win total in that range. A team like the Celtics, they're probably going to make sure they're healthy for the playoffs late in the season compared to chasing 60 wins or so."
Philadelphia is reportedly interested in Durant as well, but that's considered an extreme long shot as he and James Harden didn't end their relationship with the Nets on great terms.
Golden State will raise another title banner to the rafters in the Chase Center and the players will get their championship rings. The Dubs are +550 second-favorites to repeat and have a win total of 52.5.
According to Kristian Winfield of the New York Daily News, the Lakers are now willing to include both of the team's future first-round picks (2027 and 2029) in a trade for Irving and that might be enough to get it done – although the Nets didn't want any part of Russell Westbrook, and his salary almost surely would have to be included.
Shams Charania is also reporting that the Nets will host the New Orleans Pelicans on Oct. 19 in the opener for both teams. That game will presumably feature the regular-season returns of All-Stars Zion Williamson and Ben Simmons – they both missed last season.
The schedule for Christmas is Bucks at Celtics (-4.5), 76ers at Knicks (TBA because of Donovan Mitchell potentially being traded to New York), Suns at Nuggets (-2.5), Lakers at Mavericks (-3.5), and Grizzlies at Warriors (-4).
The full schedule will be released at 3 p.m. ET Wednesday. There will be no games on Tuesday, Nov. 8 because it's Election Day. The NBA said says the scheduling decision came out of the league's focus on promoting nonpartisan civic engagement and encouraging fans to make a plan to vote during midterm elections. All 30 teams will play on Nov. 7 as the league is hoping teams use that night as an opportunity to encourage fans to get out and vote.
Which Fantasy Football sleepers, breakouts and busts should you target and fade? And which QB shocks the NFL with a top-five performance? Join SportsLine now to get Fantasy Football cheat sheets for every single position, all from the model that called Jonathan Taylor's huge season, and find out.