Rangers vs. Astros Wednesday MLB probable pitchers, odds: Cy Young favorite Justin Verlander dominating at 2011 AL MVP level
AL Cy Young favorite Justin Verlander pitches tonight vs. Texas.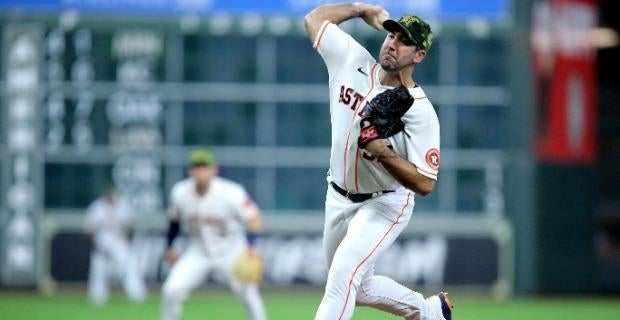 Houston Astros ace Justin Verlander is not going to win a second career American League MVP Award, as Yankees outfielder Aaron Judge essentially has that wrapped up -- Judge is priced at -650 to win at Caesars Sportsbook. Verlander isn't even a betting option on that prop, but he's the -170 favorite to win a third career Cy Young Award and is having as good of a season as he did in 2011 when won both awards while with Detroit. The 39-year-old is on the mound Wednesday vs. Texas and Houston is a massive favorite.
If Verlander wants to pitch next season for the Astros, that's now locked in should he choose. Coming off Tommy John surgery that caused Verlander to miss all of 2021, he has passed the 130-inning mark last week against Cleveland, triggering his $25 million player option for 2023. Verlander may forego that option as he's in position to handily surpass a $25 million average annual value as a free agent.
"I wasn't pitching to get to 130 innings," Verlander said after reaching the threshold. "When we were doing the contract, [Astros owner] Jim [Crane] told me they wanted 130 innings for my player option. I was asking for a straight player option and they said they'd like 130 innings, and that was that. I thought that was a very fair number the way I like to pitch."
Verlander leads the majors with 15 wins and a 1.73 ERA, is second with a 0.85 WHP and fourth with a .188 opponents' batting average through 20 starts. In his 2011 historic season, he had a 2.15 ERA, 0.87 WHIP and .188 opponents' batting average through 20 starts and would finish 24-5 with a 2.40 ERA, 0.92 WHIP and .192 opponents' batting average.
Overall, Verlander is the fourth pitcher since 1969 to have at least 15 wins and an ERA below 2.00 through his first 20 starts of a season, joining Roger Clemens with Toronto in 1997 (15-3, 1.62), Gaylord Perry with Cleveland in 1974 (15-2, 1.40) & Vida Blue in 1971 with Oakland (16-3, 1.53).
Clemens and Blue won the Cy Young Award those years. Since 1913, only two other pitchers age 39 or older have had a lower ERA through their first 20 starts of a season: Clemens at 1.40 in 2005 and Eddie Plant at 1.69 in 1915.
Verlander, who opened this season at +1800 to win the Cy Young, is 2-0 with a 0.69 ERA and 16 strikeouts in 13 innings this year against Texas. He is set at Over/Under 1.5 earned runs allowed, 4.5 hits, 6.5 strikeouts, 20.5 outs recorded and -158 to get a win at Caesars.
The Rangers start Glenn Otto (4-8, 5.31 ERA). He is 0-1 with a 3.48 ERA in 10.1 innings this year against Houston. Otto is +325 to get the unlikely win. 
Which Fantasy Football sleepers, breakouts and busts should you target and fade? And which QB shocks the NFL with a top-five performance? Join SportsLine now to get Fantasy Football cheat sheets for every single position, all from the model that called Jonathan Taylor's huge season, and find out.