Dodgers vs. Reds Tuesday MLB odds, props: Mega-prospect Elly De La Cruz hitting cleanup in big-league debut with Cincinnati, already among NL Rookie of Year favorites
The Reds are calling up their top prospect, shortstop Elly De La Cruz.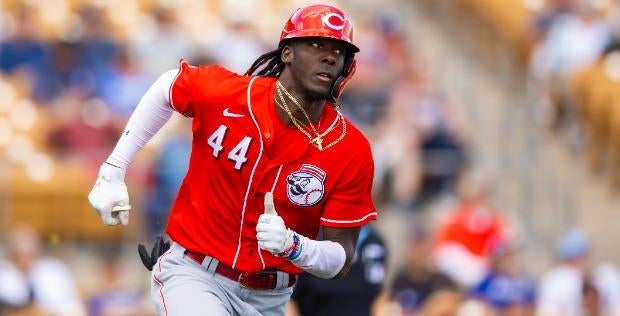 Before Monday's game against Milwaukee, the Reds called up one of their top pitching prospects in Andrew Abbott, and he was sensational in the 2-0 victory. Could lightning strike for a second night in a row for Cincinnati? The team is calling up 21-year-old shortstop Elly De La Cruz, whom some experts regard as the best prospect in baseball. The Reds, though, are sizable home underdogs at Caesars Sportsbook against the Los Angeles Dodgers with De La Cruz +420 to homer. 
The tallest everyday shortstop in the majors is Pittsburgh's Oneil Cruz at 6-foot-7, and he's one of the blossoming young stars in the National League. At 6-foot-5, the switch-hitting De La Cruz is very similar to Cruz at the plate, on the base paths and with his throwing arm. De La Cruz was recently named ESPN's top prospect and is rated as the No. 2 prospect by CBS Sports, No. 3 by Baseball America, No. 4 by MLB.com and No. 5 by FanGraphs.
MLB.com gives De La Cruz an overall grade of  60 on a scale of 20-80, with his run grade the highest at 70. Statcast has pegged his sprint speed as high as 31.0 ft/sec -- above the "elite" threshold, which is defined as anything at 30 ft/sec or above. He signed with the Reds for just $65,000 in July 2018 out of the Dominican Republic.
De La Cruz really broke out across two levels of the minors last year. He hit .304 with 28 homers, 86 RBI and 47 steals. This year at Triple-A, he's batting .297 with 12 homers, 36 RBI and 11 steals. His season began on April 20 after he spent time on the injured list with a left hamstring strain suffered during his first big league camp at spring training. De La Cruz was on pace for an historic 45-homer, 45-steal season at Triple-A Louisville. (No player in the history of Major League Baseball has ever accomplished that feat.) De La Cruz ranks second among qualified Triple-A batters in average exit velocity and percentage of batted balls with exit velocities exceeding 95 mph. He can strike out a bit too much, with 50 whiffs in 158 at-bats so far in 2023, but has improved his approach at the plate over the last month.
With the marquee Dodgers in town this week and big crowds expected (likely a few more thousand per night now), perhaps not a shock this is happening now. De La Cruz is batting cleanup and playing third as the Reds have a good young shortstop in Matt McLain, who is +2000 to win NL Rookie of the Year. Still,  De La Cruz is going to be playing at short many nights because McLain can move around the infield a bit, too. 
De La Cruz is already a +1000 fourth favorite at DraftKings for NL Rookie of the Year – down from +2000 yesterday. To open a roster spot for him, the Reds put Nick Senzel on the 10-day injured list, retroactive to June 4, with right knee soreness. De La Cruz's first MLB at-bat will come against the Dodgers' Tony Gonsolin (3-1, 1.77 ERA). Gonsolin has pitched in three games (two starts) against Cincinnati in his career and is 1-0 with a 3.97 ERA.
 Get more out of your SportsLine subscription! 
Qualifying SportsLine members receive a 30-day free trial of Paramount+ premium. Sync your account right here.