Carlos Correa signs for $350 million with Giants: San Francisco's odds to win 2023 World Series unchanged
Carlos Correa has signed a mega-contract with the San Francisco Giants.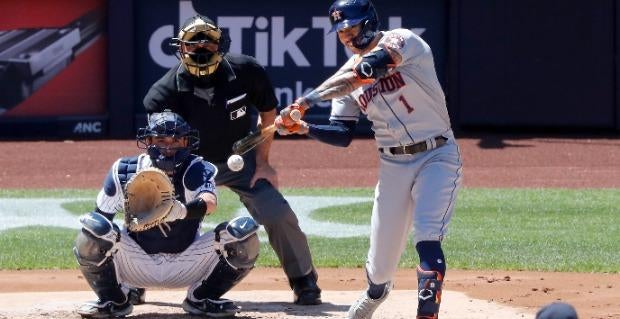 There are many reasons why the San Francisco Giants regressed from an MLB-best 107 victories and an NL West title in 2021 to just 81 wins and no playoff spot this past season. One big reason was the offense took a huge step back after losing All-Star catcher and franchise icon Buster Posey to retirement. The Giants offered Yankees free agent Aaron Judge around $360 million but he returned to New York. San Francisco has now pivoted and signed All-Star shortstop Carlos Correa. The team's odds to win the 2023 World Series remain unchanged, priced +3500 at DraftKings.
Had the Giants signed Judge, their World Series odds were projected to drop to +2500. The market for the 2015 Rookie of the Year seemed to come down to the Giants, Cubs and the Twins, but desperate San Francisco blew the competition out of the water with a 13-year, $350 million deal (no opt-outs) in surely the biggest free-agent addition for the franchise since Barry Bonds. The deal marks the fourth-largest guarantee in MLB history behind Mike Trout ($426.5 million), Mookie Betts ($365 million) and Judge ($360 million).
The 28-year-old Correa had opted out of his three-year, $105 million deal with the Twins after just one season when he hit .291 with 22 home runs, 64 RBI and 70 runs scored in 136 games with a WAR of 5.4. After a slow start, he hit .299/.376/.488 in 487 plate appearances from mid-May through the end of the season. Among 133 qualified hitters over that stretch, Correa ranked 14th in on-base percentage and 23rd in slugging.
The former No. 1 overall pick by the Astros used to be a bit injury-prone but has played in 148 and 136 games in the last two seasons. He is the third shortstop to sign a deal for at least 11 years this offseason. Trea Turner got 11 years and $300 million from the Phillies and Xander Bogaerts signed for 11 years and $280 million with the Padres.
There's one top shortstop remaining on the market: former Atlanta Brave Dansby Swanson, and he's going to benefit quite nicely from all these mega-deals. The Braves, Twins, Red Sox, Dodgers and Cubs are the top contenders to sign him.
San Francisco has four-time Gold Glove-winning shortstop Brandon Crawford under contract for another year, but he's now expected to move to third base. While losing out on Judge -- who is from the Bay Area -- certainly stung, the Giants have certainly beefed up this offseason. Prior to Correa, San Francisco re-signed Joc Pederson, and added outfielder Mitch Haniger and starting pitchers Ross Stripling and Sean Manaea. 
San Francisco opens the 2023 season at Judge and the Yankees on March 30. 
Qualifying SportsLine members receive a 30-day free trial of Paramount+ premium. Sync your account right here.