2023 World Series odds: Dodgers favored despite potential losses of Trea Turner, Clayton Kershaw
The Los Angeles Dodgers are favored to win the 2023 World Series.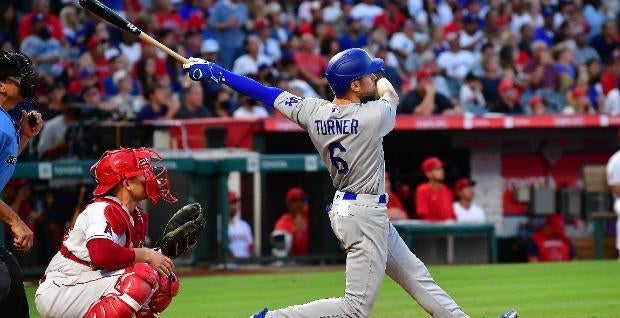 When the 2021 World Series ended, the Los Angeles Dodgers were installed as betting favorites at Caesars Sportsbook to win the 2022 Fall Classic and stayed there for the vast majority of the regular season, only to be upset by the San Diego Padres in four games in the NLDS. Despite potentially losing star free agents in shortstop Trea Turner and pitcher Clayton Kershaw, among a few others, L.A. is the +500 favorite at Caesars to win it all next year.
Free agency has officially begun, although players can't start negotiating economic terms with teams other than their most recent employers until Friday. Turner is looking at a $200 million-plus contract after hitting .298 with 21 homers, 100 RBI and 27 steals in 160 games. He's only 29 and plays a very important position. Turner has been the second-best hitting shortstop in MLB over the last three seasons, posting a higher OPS+ than everyone but Fernando Tatis Jr. The Dodgers can certainly afford to retain him. CBS Sports has a free-agent primer story and doesn't have Turner going back to the Dodgers but instead to the Cubs, Mariners or Orioles.
The future Hall-of-Famer Kershaw seems much more likely to re-sign with the Dodgers, the only team he has played for. The 34-year-old can't be counted on to make it through a full season healthy at this point but was still an excellent 12-3 with a 2.28 ERA and 0.94 WHIP in 22 starts. Fellow starting pitcher Tyler Anderson, who had a breakout season at 15-5 with a 2.57 ERA, is also a free agent.
The champion Houston Astros are +550 to repeat, which no team has done since the Yankees won a third straight Fall Classic in 2000. Justin Verlander, who is going to win the AL Cy Young, tops Houston's list of free agents. Manager Dusty Baker is no longer under contract, either, but figures to be back.
The Atlanta Braves are +850 and their top free agents are shortstop Dansby Swanson and closer Kenley Jansen. The New York Yankees are also +850, and they have the biggest free agent available in record-setting Aaron Judge. It would still be a surprise if he doesn't re-sign there. The Mets are +1000 and have ace Jacob deGrom hitting free agency. The team already has re-signed All-Star closer Edwin Diaz to a five-year, $102 million contract – the largest contract ever for a reliever.
Last winter, the offseason was shut down by a 99-day lockout but that won't be an issue this time. The annual Winter Meetings are Dec. 4-7 in San Diego, so you can likely expect plenty of signings and trades then.
The 2023 season begins on March 30. There's a new balanced schedule as well, meaning all 30 teams will play each other for at least one series. The All-Star Game is scheduled for Tuesday, July 11, at T-Mobile Park in Seattle.
Looking for the best picks against the spread, sharp plays on the total and props you can take straight to the pay window? Join Jonathan Coachman on The Early Edge as he speaks with SportsLine's top handicappers to preview the day's biggest games. We promise to keep it short and sweet and to put some green in your pocket. The Early Edge is in your feed every single day by 11 a.m. ET. Subscribe right here on YouTube to watch daily, plus don't miss The Early Edge specials and live shows!