Pac-12 Conference football championship odds unchanged for now despite elimination of divisions for 2022 season
The Pac-12 will drop divisions for the 2022 football season.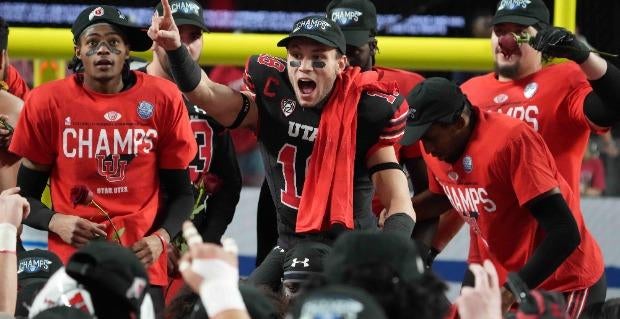 On Wednesday, the NCAA Division I Council voted to eliminate division requirements for conference title games. The rule wasn't supposed to go into effect until the 2023 season, but apparently the Pac-12 couldn't wait as it announced also Wednesday that it was dropping divisions for this season. Instead, the two teams with the highest conference winning percentage will face off in the championship game. Sportsbooks frankly were caught a bit off guard here, as no futures odds to win the Pac-12 changed, although they still could. USC is currently the +140 favorite.
The Pac-12 has a fairly new commissioner in George Kliavkoff, a publicity specialist who came from MGM Resorts International, where he was president of entertainment and sports. It's no surprise that Kliavkoff wanted to get ahead of the curve here and get some attention for a league that has fallen far behind the other Power 5 conferences in football. The Pac-12 has had a representative in the national semifinals just twice and not since the 2016 season. The Pac-12 also was the conference that originally brought the motion of deregulating title games to the council.
Most other leagues likely follow the Pac-12's lead, will but not for 2022 because schedules already are set. The current Pac-12 conference football schedule, based upon two divisions, will remain in place for this year. The two divisions were originally created in 2011 after Utah and Colorado were added to the league.
"Our goal is to place our two best teams in our Pac-12 Football Championship Game, which we believe will provide our conference with the best opportunity to optimize CFP invitations and ultimately win national championships," said Kliavkoff.  "(Wednesday's) decision is an important step towards that goal and immediately increases both fan interest in, and the media value of, our Football Championship Game."
The elimination of division requirements would have led to a different Pac-12 title game in five of the last 11 years, although No. 10 Oregon vs. No. 17 Utah would have still been the game in 2021. Here are those that would have changed without a divisional requirement:
2011 – No. 9 Oregon vs. UCLA would have been No. 4 Stanford vs. No. 9 Oregon
2012 – No. 8 Stanford vs. No. 16 UCLA .... No. 5 Oregon vs. No. 8 Stanford
2015 – No. 7 Stanford vs. No. 20 USC .... No. 7 Stanford vs. No. 16 Oregon
2018 – No. 11 Washington vs. No. 17 Utah .... No. 11 Washington vs. No. 13 Washington State
2020 – No. 13 USC vs. Washington .... No. 13 USC vs. No. 25 Colorado
The move could possibly help in bowl games as well. Since the introduction of the Pac-12 Championship Game, the losers of the game have gone a combined 0-10 in their bowl (USC declined a bowl bid in 2020).
UCLA is only bringing back nine starters but has a new superstar head coach in Lincoln Riley and "won" the transfer portal via 247Sports with a group led by former Oklahoma star quarterback Caleb Williams. Former Pitt star receiver Jordan Addison, the 2021 Biletnikoff winner, could be headed to LA any day now as well.
Oregon (+300 second favorite) welcomes back 14 starters for new head coach Dan Lanning, the former Georgia defensive coordinator. He will need to find a new QB, and it will likely be Auburn transfer Bo Nix.
Defending Pac-12 champion Utah (+400 third favorite) has 13 starters back for Kyle Whittingham. Quarterback Cameron Rising and running back Tavion Thomas lead eight returning starters on offense. The Utes' defense is always among the nation's best.
USC has to visit Utah (seeing as they were South Division foes) but doesn't play Oregon. The Ducks host the Utes. No other school is below +1200 to win the Pac-12. 
Who wins the Preakness Stakes? And which underdog is a must-back? Join SportsLine now to see Jody Demling's picks for the Preakness Stakes, all from the expert who nailed 10 Derby-Oaks doubles and 9 of the last 17 Preakness winners, and find out.