Jake Paul vs. Nate Diaz boxing odds, trends: Bettors heavily wagering underdog Diaz in ring debut for 10-round fight Saturday
Jake Paul and Nate Diaz face off in the boxing ring on Saturday night.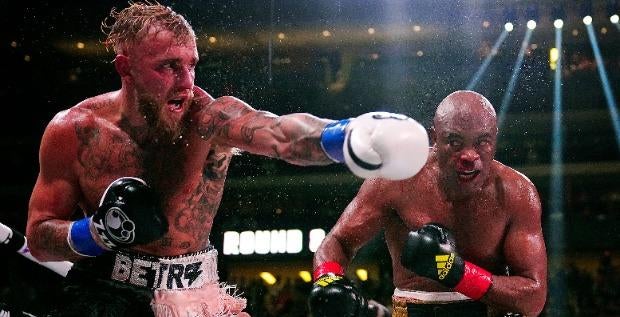 Last weekend, arguably the biggest boxing match of the year took place as Terence Crawford beat Errol Spence Jr. to capture the undisputed welterweight championship. It was a fight that boxing fans had been waiting years for and it lived up to the billing. And you know what? The pay-per-view buys for that will likely not remotely come close to Saturday night's fight in Dallas between former YouTube star Jake Paul and ex-UFC title contender Nate Diaz as Paul is that popular. The fight streams via pay-per-view on ESPN+ and DAZN. Click here for expert picks. 
It is being contested at 185 pounds and is officially a go after both made weigh this morning: Paul weighed exactly 185 pounds, while Diaz followed afterward at 184.9. At BetMGM, Paul opened as a -300 favorite and is now -400 despite taking only 12% of bets and 46% of money. Diaz has risen from +250 to +300.
The 6-foot-1 Paul, a 26-year-old with a reach of 76 inches, is 6-1 in his young boxing career with four knockouts. He has beaten other excellent former UFC fighters and former champions in Tyron Woodley (twice) and Anderson Silva (and non-champion Ben Askren). Paul is coming off his first career loss, a split decision defeat to Tommy Fury in February as a -150 favorite.
Diaz is one of the most popular UFC fighters around because he stands there and mashes toe-to-toe with his opponent. The 38-year-old was 21-13 in the Octagon and likely best-known for his back-to-back wars with Conor McGregor in 2016 (they split). Diaz is listed at 6-foot with a reach of 76 inches and is a southpaw. It will be the first time Paul will be facing a southpaw in his pro boxing career.
This is Diaz's official boxing debut. He last fought at UFC 279 in September 2022, beating Tony Ferguson by a fourth-round submission in the final fight on his UFC contract. Diaz primarily fought at lightweight (155 lbs) and welterweight (170 lbs) in the UFC.
Paul recently said: "My prediction is a fifth-round knockout. … I know I want it more and I know what I did in training," he continued. "And yeah, he's going to maybe land a couple of punches, that's the name of the game. That only wakes me up. I'm going to get hit and hit him harder, and keep on going and weather the storm and end his career."
To win in Round 5, Paul is +1000. The most-wagered prop tonight by tickets is Diaz to win by KO/TKO/Technical Decision or DQ at +550, followed by Paul on points at +350 and Paul by KO/TKO/Technical Decision or DQ at -140. The fight is scheduled for 10 rounds. The betting Over/Under is 7.5 with the Over slightly favored. 
SportsLine's 2023 Fantasy Football Draft Bible has the best sleepers, breakouts, busts, rookie breakdowns, target analysis, rankings and so much more -- all in one place!